Finding the right dissertation topic is not that easy. Even more difficult is finding a supportive tutor to help you complete a massive work of 10.000 words! UK students these days choose unconventional topics involving various pop culture phenomena in order to reveal their socio-cultural impact.
Approaching serious matters in a creative way allows seeing the world from different angles. It's true, life is not only about fun and games. But the idea of education is teaching us to perceive the reality in its multiple shapes. And yes, there IS a connection between a dissertation on RuPaul's Drag Race and LGBTQ+ studies, or Quidditch and real-life sport! Based on the student interviews from The Tab, Typical Student team has put together a list of the most bizarre dissertation topics chosen to get a degree.
1.'The Princess is in the building!' Keeping up with the Kardashians: A postfeminist fairy tale?
Source: GIPHY
Two years ago, Durham Sociology student Eliza Cummings, got her degree owing to the risque dissertation topic dedicated to KUWTK. In her work, Eliza tried studied the Kardashian family's role as a postfeminist fairy tale in modern pop culture. She concluded by saying the postfeminist narrative has potentially disastrous effects on gender equality. According to Eliza, there is doubt as to whether "the postfeminist fairy tale is one we want to be telling our daughters."
2. 'I Love Kanye': Identity in the Works of Kanye West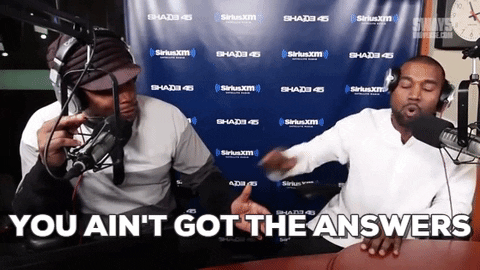 Source: GIPHY
Harry Bainbridge, an English Literature and Language student from Leeds took it a step further and wrote a dissertation on Kim Kardashian's husband Kanye West. In his work, Harry chose to explore how public identities are created using Kanye's example. Based on Richard Dyer's theory on film stars as images, Harry studied how Kanye is "creating innumerable modulations of his own image."
3. Constructions of Quidditch: an examination of British Quidditch players
Source: GIPHY
Another Durham Sociology student, Richard Lowdon, trod the path of controversy by choosing Harry Potter related dissertation topic. Turns out, students in Durham have managed to put fantasy into reality by creating a real-life Quidditch team called "Durham Direwolves." Richard's dissertation findings include as follows:
A decline in significance of links between the Harry Potter community and the sport.

Payers have found new ways of developing novelty of Quidditch as they go along.

Accessibility and inclusivity is the most important part of Quidditch.
4. "How did social media react to Ed Miliband during the 2015 General Election? A content analysis of YouTube comments and the 'Milifandom' Twitter community"
Source: Demonszone
Up next is Hannah Grafton, the Journalism student at the University of Westminster. She decided to get deeper insights into the General Election and the public persona of Ed Miliband by exploring the Milifandom. Hannah was surprised to discover that "Milifandom was more about young people campaigning for votes for 16 and 17-year-olds, and less about just photoshopping flower crowns on Ed."
5. "'She's so slaggy but he's just being a lad': An investigation of the gendered and sexualized body on Love Island"
Source: GIPHY
Allie Short, the Geography student from Exeter University, wrote a 12.000-word dissertation on Love Island. In case you didn't know, Love Island is the ITV reality show where contestants are trying to make their relationships work all for the chance of winning £50,000. Allie's study topic was the "gendered and sexualised body" of the female contestants. In reality shows like this, the girls are often slut-shamed, while men are praised for their popularity among females.
6. "The Meme-ing of Life: The Ironic (Inter) Textual Internet Meme, Postmodern Political Participation, and the Post-Ironic."
Source: GIPHY
Julian Porch, the English Literature student from the University of York, chose memes as a form of political participation during the 2016 US Presidential election. His dissertation is dedicated to the post-ironic use of memes, but with a reference to critical theory and philosophy. Another student, Adriana Torres Plaza from Durham, Washington D.C., chose to work on a similar meme-related topic.
7. Dissertation on RuPaul's Drag Race, No Name
Source: GIPHY
The latest example of a bizarre diss topic has just arrived from Media and Communications student at Bournemouth, Cat Bates. This fierce young lady has chosen to explore "how gender is performed and the social and political issues around it" using RuPaul's Drag Race as the subject matter. Cat admits the show is great in raising awareness on the LGBTQ+ issues alongside its tremendous impact on pop culture.
Check Out More Related Posts:
6 FREE Online Courses in Law from the Best US Colleges
Hunger Games: 1 in 3 US Students Are Food Insecure Because of High Tuition Cost
Did You Know: Philly Students Can Celebrate College Signing Day 2018 For FREE If Purchase $55 Tote Bag